A resume can play a critical role in determining whether or not you get called for an interview. Everyone knows this. As such, common sense dictates that you put a lot of thought into writing and editing it. Some people go as far as hiring experts to write their resumes for them. This is actually a smart idea.
However, there are some people who for one reason or another do not give much thought to resumes. As such, they send resumes which range from ridiculous to downright bizarre. Here is a selection of 9 of such resumes. These are the 9 worst resumes ever received by hiring managers.
The Ex-Marijuana Dealer
Work experience is an important part of a resume. The rule of thumb is to include any experience which is relevant to the job you are applying for. However, there are certain work experiences which are better left out of the resume.
A case in point is this applicant who listed "Marijuana Dealer and Nefarious Dude" among his work experiences. Just out of curiosity, would you hire a nefarious dude?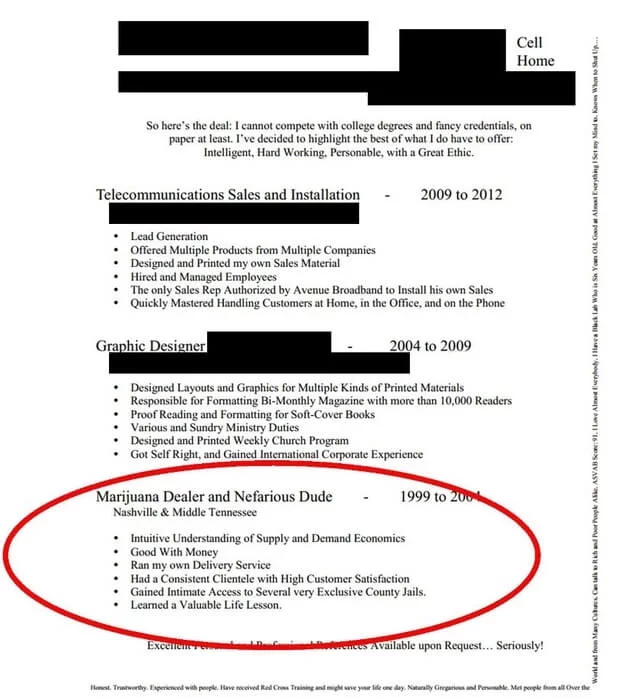 Unfortunate References
References are essential in a resume. As such, people usually select them after careful consideration. Well, at least some people do. This applicant wasn't one of those people. They didn't include a single reference because they all met a tragic, fiery end.
The applicant must have been lucky to survive the fire. It is highly unlikely that the absence of references impressed the recruitment manager.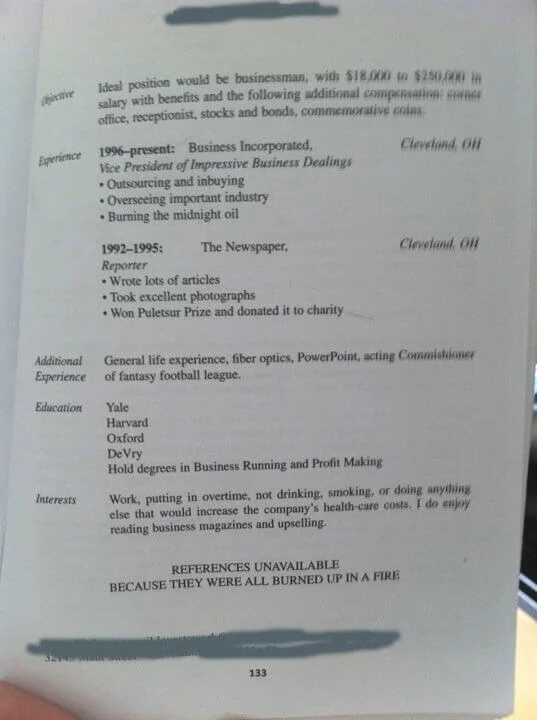 Brief, Concise and Precise
A great resume is supposed to be straight to the point. Every seasoned professional knows this. The reason is simple: recruiting managers are extremely busy (and sometimes quite fickle). They simply drop any resume which they can't get their heads around.
However, sometimes brevity is a problem. There is such a thing as being too brief. This applicant certainly meets the bill. He (or she) got straight to the point, and unfortunately stopped there. A little extra info would have been appropriate.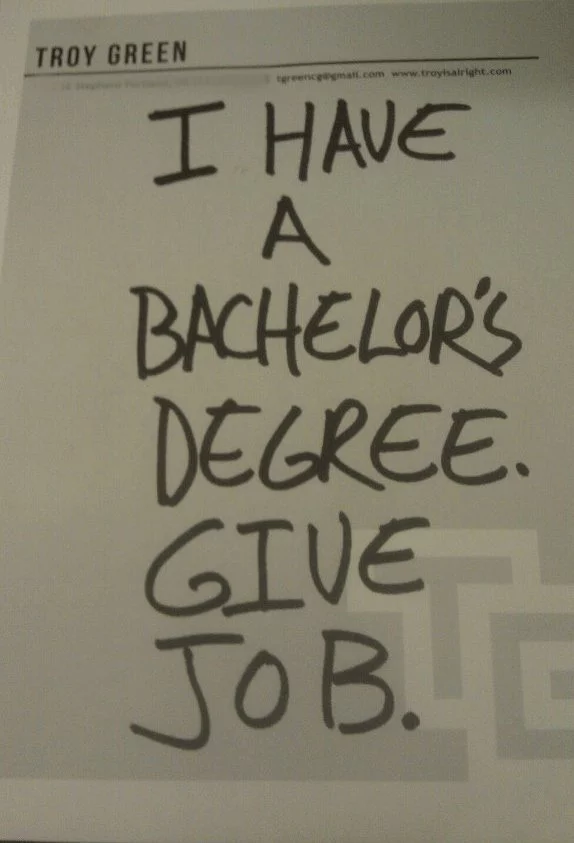 The Accidental Resume
It is often said that in the world of job search, speed is of the essence. When you sniff an opportunity, you have to act swiftly. Unfortunately, acting too swiftly can open you up to errors. Hilarious ones!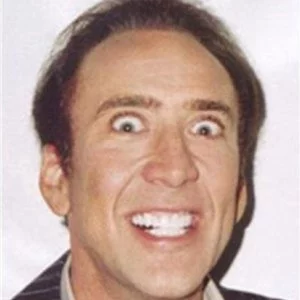 That is what happened to Vanessa Hodja. Having seen an opening she'd always dreamed about, she decided to apply immediately. She quickly drafted a cover letter, attached her resume and send the winner email.
Her only problem is that she made a little mistake on her resume. Instead of her resume, she accidentally attached picture of a psychotic-looking Nic Cage.
Credit to Vanessa, when she realized her mistake, she saw the funny side of it. So she wrote a post about it on Tumblr, and the whole world had a laugh.
Background Screening Do's And Don'ts For Staffing Companies (or any industry)
A Clearly Overqualified Candidate
When writing a resume, it is often advisable to outline some personal attributes – especially the ones which are relevant to your intended position. However, there is such a thing as overstating your case. That is what this candidate clearly did…
The Meticulous Proofreader
Common sense dictates that you proofread your resume before sending it. However, as it is often said, too much of anything can be dangerous. Sometimes, if you peer too closely, you may just miss out a few details.
This applicant certainly fell into this trap. Too much attention to detail and she missed out some obvious spellings: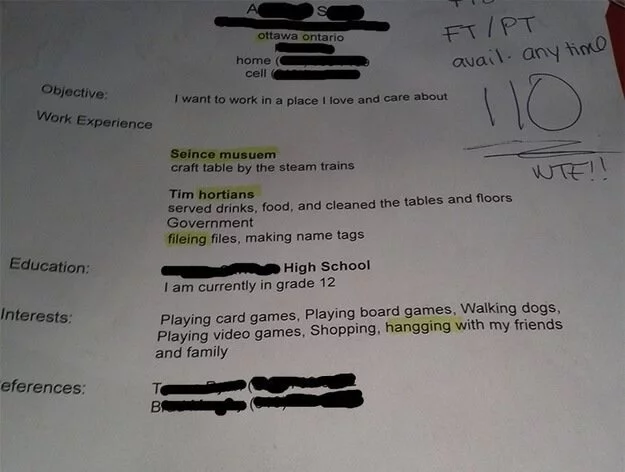 The Experienced Applicant
Work experience is gold in a resume. The right amount of experience can create openings for you. As such, you have to flaunt it.
However, the least you can do is get your spellings right. This applicant surely has tremendous movie experience. The problem is, she can't seem to get the movie titles right. Who'd blame a hiring manager for trashing her resume?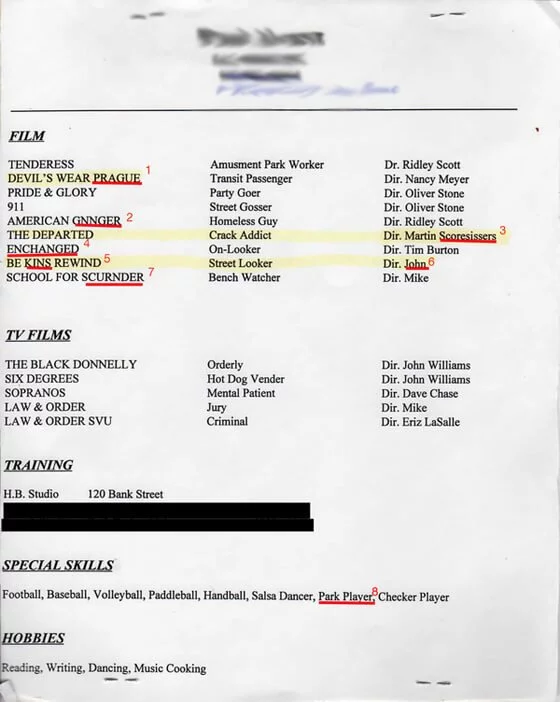 The Most Awesome Resume
It is said that a picture is worth a thousand words. So, what better way is there to state your case than through pictures?
That is certainly what must have been going through this applicant's mind. The selection of pictures was actually brilliant. After all, which hiring manager wouldn't be impressed by such an "awesome" resume? Well none of them.
Any manager who looks beyond this ridiculous cover page would most likely be looking for a quick joke to share at the water cooler.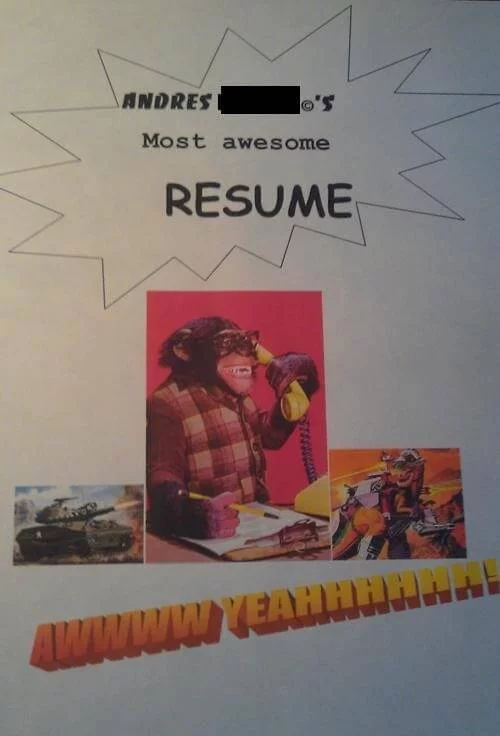 The Handwritten Resume
A resume is intended to create an impression. Sometimes, the best way of catching attention is through doing the unexpected. What would be more unexpected than sending a handwritten resume?
This applicant certainly went for the unexpected. The idea was actually brilliant. Chances are high that their resume was the only handwritten one. The problem is with the execution of the idea.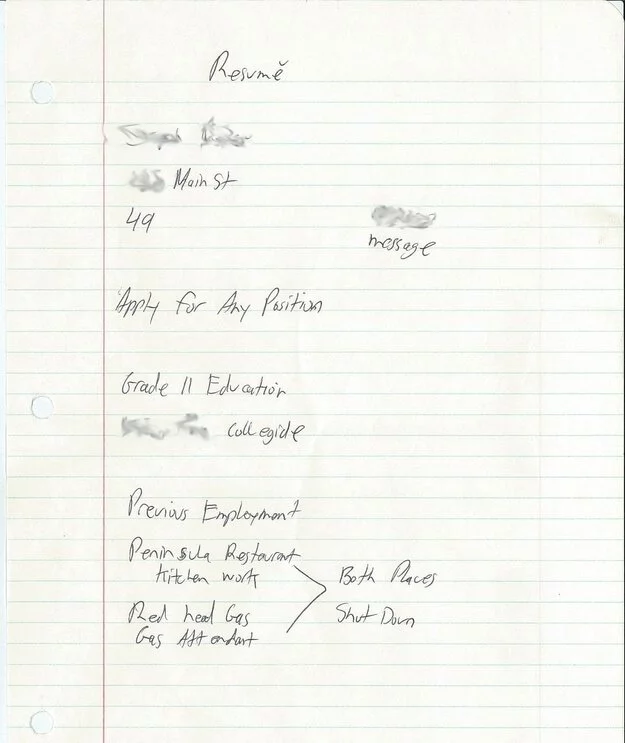 In a nutshell, those are the 10 worst resumes ever sent to recruiting managers. You can almost guarantee that none of these senders received an interview invitation. The lessons for job applicants which can be drawn from these resumes are the following: take your time to prepare a resume, think long and hard before including anything, proofread meticulously and crosscheck your resume before sending it. Best wishes.